HODL
ism


An Initial Soul Offering


Decentralized applications promise self-sovereign identity, decentralized governance, prediction markets, global access to finance, and other planetary paradigm shifts. But when you look closer, the ecosystem is still young. Technology remains amoral, and each new innovation has it's dark side. Looking at the wild speculation surrounding blockchain, HODLism: An Initial Soul Offering is an investigation into the foundations of blockchain technology in relation to religion.



Tyler Gumb
Nour Malaeb
Azucena Romá

May 2018
"You hold too much power in something and what for?"



Invited to be a part of the 2018 Ethereal Summit, HODLism: An Initial Soul Offering invited visitors to pray to Father Satoshi at an altar to decentralization. Each prayer was algorithmically converted into a private key used in an attempt to unlocking Satoshi's wallets in an endeavor to reveal the chosen one.




"I pray for the decentralized economy to spread the wealth of the world more evenly."
One of the most valued offerings of the Blockchain is high-level transparency. As soon as information is stored onto the blockchain it becomes immutable, where it can never be altered or deleted. Focusing on transparent transactions, as a prayer was entered into the terminal it was automatically converted into a hash then shared via LED strips to all. All participants involved agreed to this transparency, which instilled mutual trust into the experience.
AVRA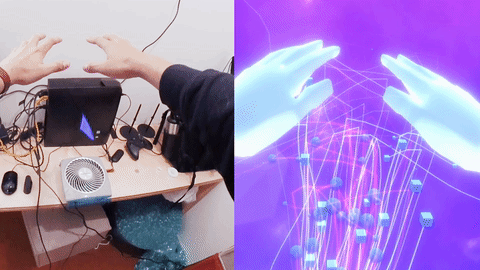 Pop-up VR Playroom: What do Pixels Feel Like?
AVRA is an immersive wonderland that creates new ways to interact with inanimate objects and everyday surfaces. In this world, walls become canvases for masterpieces, tabletops become pianos, and fans churn out streams of candy colored bubbles.
We're developing a hybrid world for you to touch magical space bubbles, feel a cool breeze of 1s and 0s, and fall down a digital rabbit hole with us.
We want to welcome you to escape reality and join us for a night complete with music, art, cocktails, and the opportunity to explore this hybrid world.
Nour Malaeb
Janel Wong

October 2017